TITLE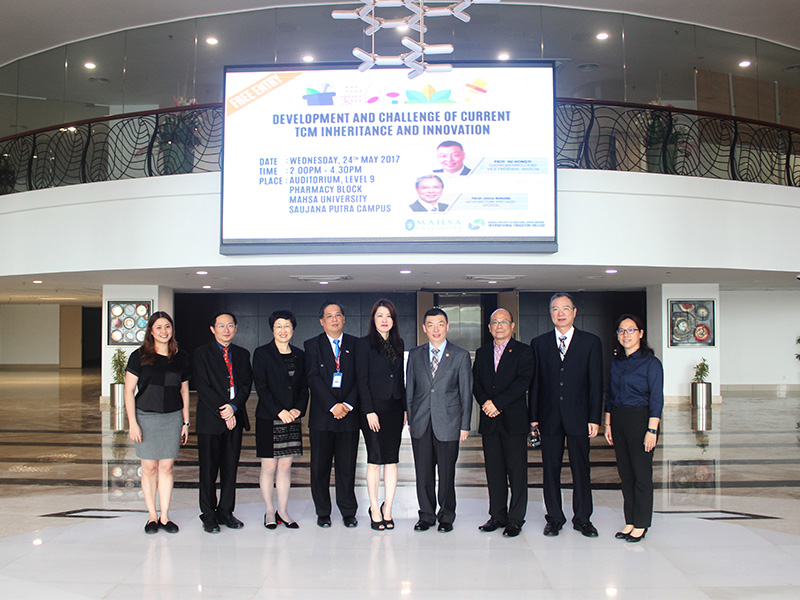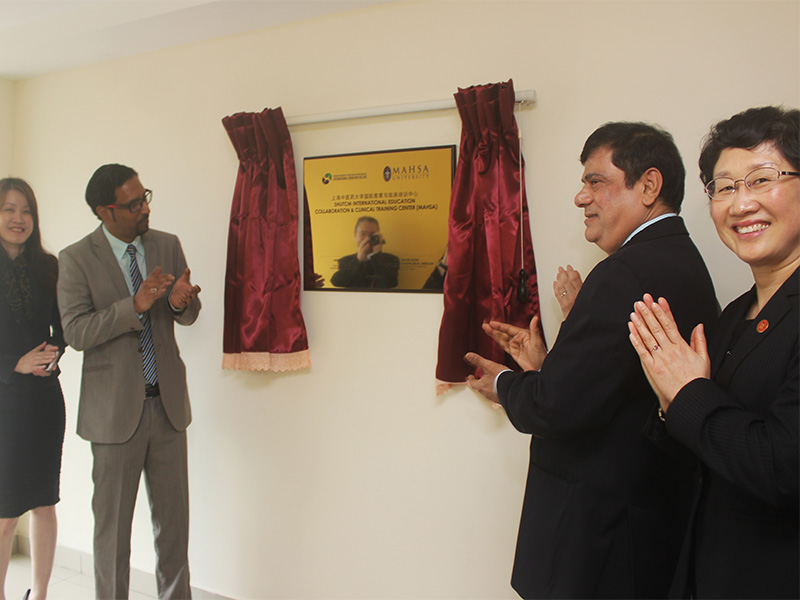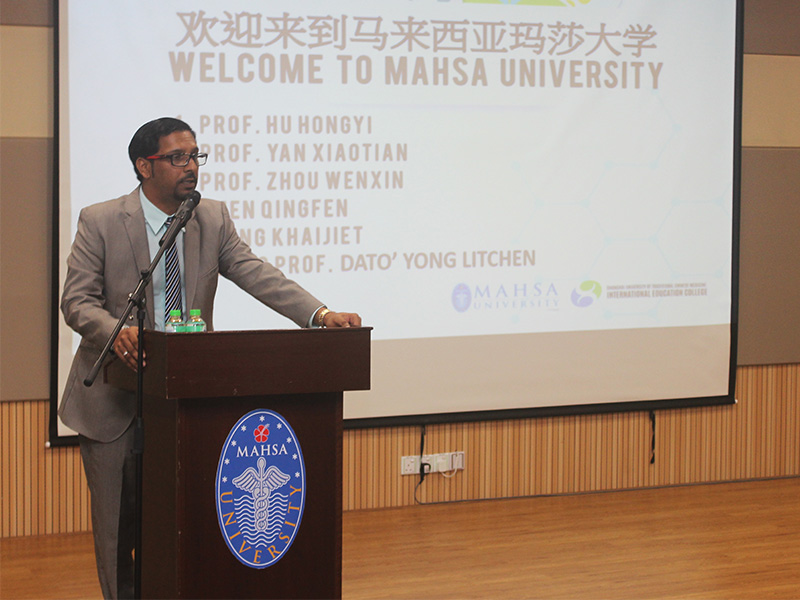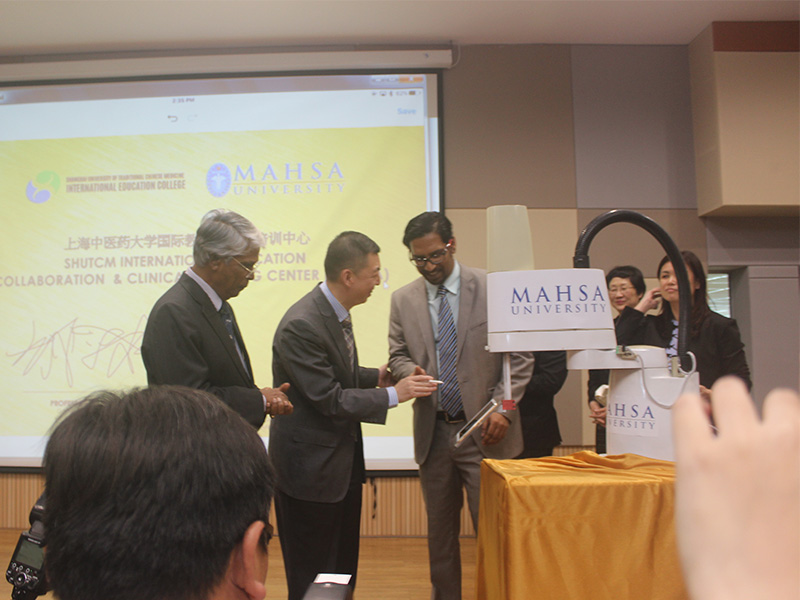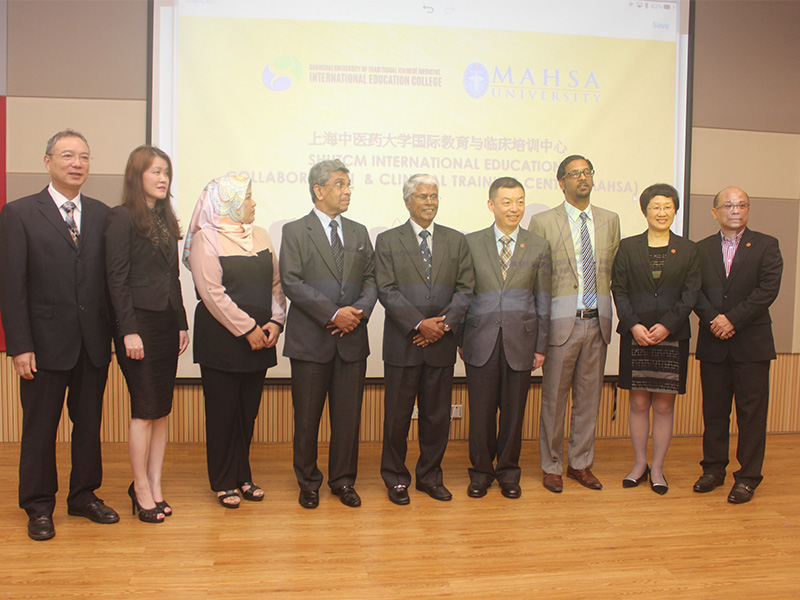 Launching of Shanghai University of TCM International Education Collaboration & Clinical Training Center
MAHSA University, in collaboration with the Shanghai University of Traditional Chinese Medicine, today unveiled their International Education Collaboration & Clinical Training Center.
Professor Hu Hongyi, Gastroentrelogist and Vice President of Shanghai University of Traditional Chinese Medicine presented a lecture entitled "Development and Challenges of Inheritance and Current Innovation in Traditional Chinese Medicine", accompanied by and Professor Zhou Wenxin, Acupuncture specialist who presented a talk on Acupuncture and Moxibustion.
In his keynote speech, MAHSA University's Group Managing Director, Dato' Dr. Shahril bin Tan Sri Hj. Dr. Mohamed Haniffa, said the university is overjoyed to be working with his distinguished Chinese counterparts. He expressed great hopes that the work they are doing together will not only create excellence, but more importantly, help the patients whose lives they will impact in the future.
MAHSA University and Shanghai University of Traditional Chinese Medicine are also collaborating in developing new academic programmes including new pathways where students can obtain credit transfers into the Bachelor of Medicine (TCM) in Shanghai, which is conducted in English.
Additionally, attractive scholarships are available for MAHSA students.
Students who are interested to learn more about the programmes and scholarships available, are advised to contact Ms. Rachel Fum at pso@mahsa.edu.my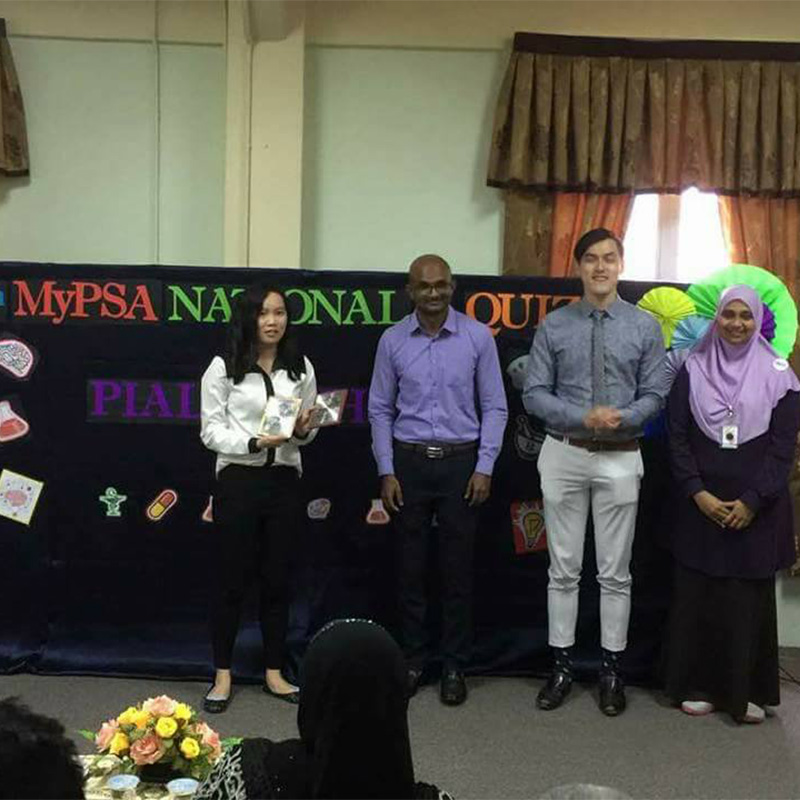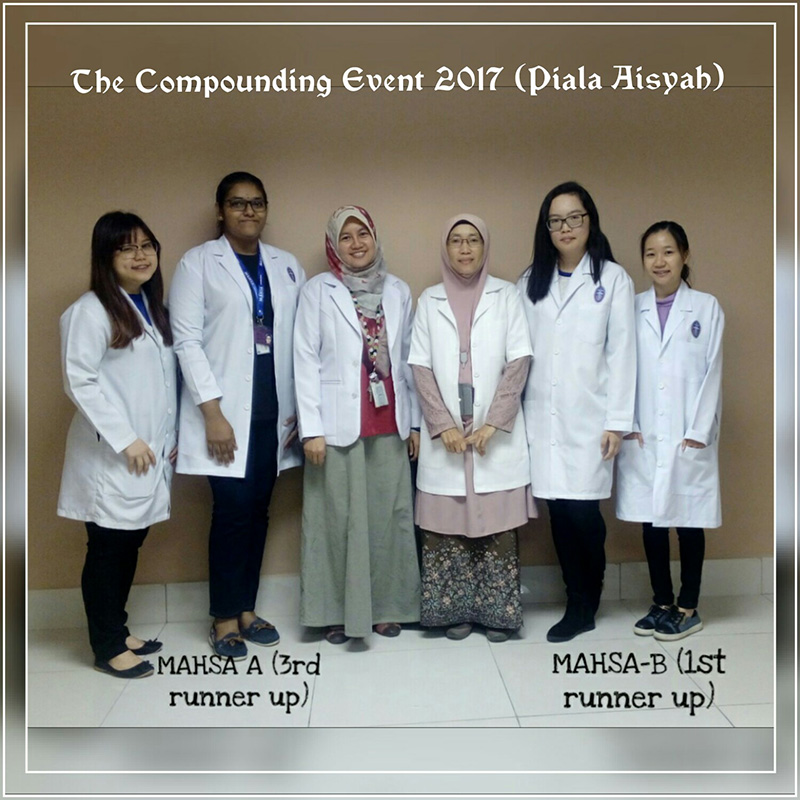 FRIDAY 28 April 2017
MAHSA University Students win at the 9th National Pharmacy Quiz Competition 2017
MAHSA University students recently did their university proud when they competed in the 9th National Pharmacy Quiz Competition (Piala Tariz) and the Compounding Event (Piala Aisyah 2017) held at the University Sains Malaysia in Penang from the 28th to 30th of April 2017. The quiz was organised in the hopes of nurturing healthy intellectual competition among students of pharmacy within the nation.
MAHSA University's Ng Pei Fang and Ling Qiu Houng, both Year Three Pharmacy students, were the first runners-up, and Ng Jia Ying and Saalini Mahalingam were the third runners-up. The students were guided by MAHSA lecturers Dr Nadiatul Azra and Madam Wati Raman. Professor Dr. Munavvar Zubaid Abdul Sattar, Dean of the Faculty of Pharmacy, congratulated all winners and said that they are an inspiration to all pharmacy students. He looks forward to the contributions these students will make to society in the future.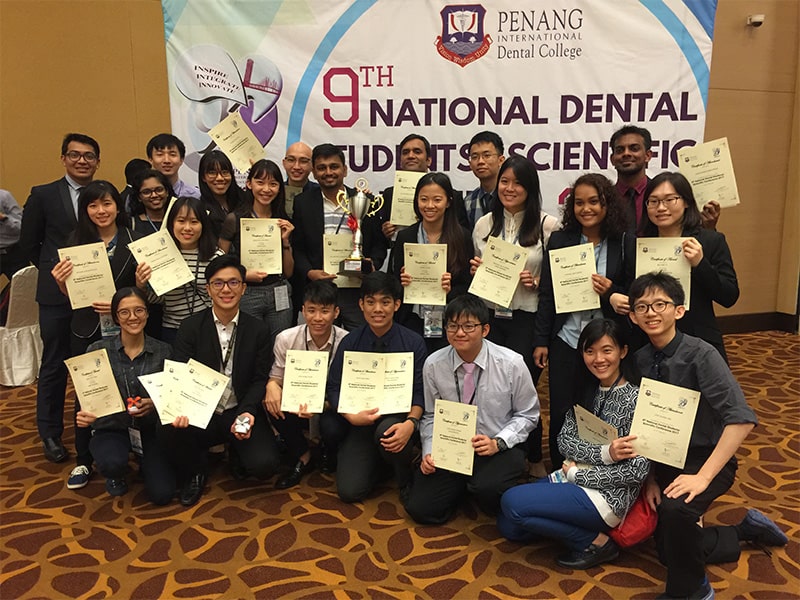 SATURDAY 6 May 2017
MAHSA UNIVERSITY STUDENTS SHINE AT 9TH NATIONAL DENTAL STUDENT CONFERENCE
MAHSA University Dental students were declared the "Overall Champions" at the 9th National Dental Students' Scientific Conference held in Butterworth, Penang, on the 6th and 7th of May 2017 when they won prizes in five out of the seven categories of competitions.
Debbie Leong, Samantha Low and Wong Hong Zhang made MAHSA University proud when they won the first-prize in the quiz at the 9th National Dental Students' Scientific Conference organised by the Penang International Dental College.
Melissa Chin Queen Kha and Ng Ying Yi, both Year-Five students in MAHSA's Doctor of Dental Surgery Programme won the third prize in the oral presentation beating 11 other Universities.
Other competitions winners were Liew Yik Haw and Teh Bang Cheng who won first and second prize respectively in the soap-carving contest; Phang Siew Hang, Liew Yik Haw, Sivaashinii, Wong Poh Li Stephanie, Foo Guang Ian and Keith Chew who won third prize in the talent show; Muhammad Noormaan Beedassy who won second prize in photography; and Yong Meei Yeng who won third prize in wire-bending.
Professor Rosnah Mohd. Zain, Dean of the Faculty of Dentistry, congratulated the students on their success and said that this reflected the quality and holistic education in MAHSA. She also expressed appreciation to the faculty staff for their guidance and support.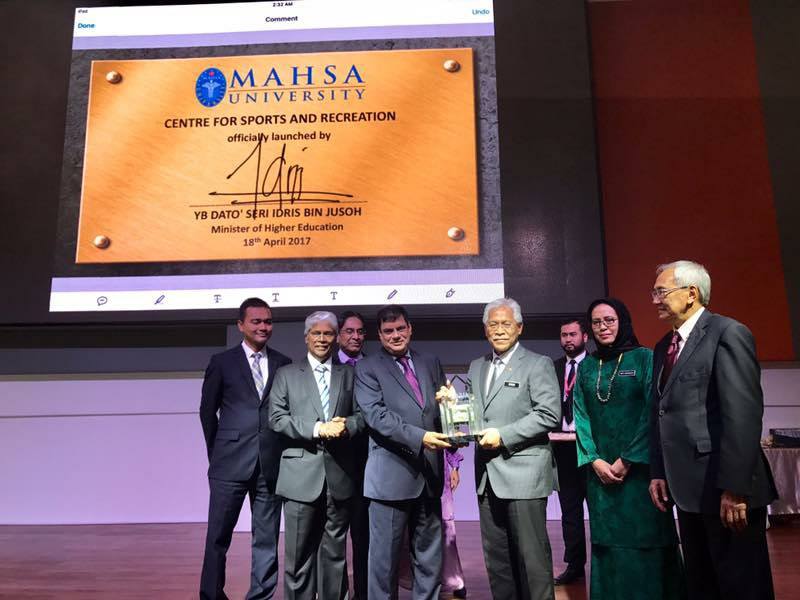 TUESDAY 18 April 2017
GROUNDBREAKING CEREMONY FOR MAHSA SPORTS & RECREATION CENTRE BY YB DATO' SERI IDRIS BIN JUSOH, MINISTER OF HIGHER EDUCATION AT MAHSA SAUJANA PUTRA CAMPUS, SELANGOR
MAHSA University held the groundbreaking ceremony for its MAHSA Sports and Recreation Centre here at 2.30pm today at their Saujana Putra Campus. YB Dato' Seri Idris Bin Jusoh, the Minister of Higher Education, officially declared the ceremony open after a video of the future Sports and Recreation Centre was played to thunderous applause as students and staff cheered and clapped.
The MAHSA Sports and Recreation Centre will house an Olympic-sized swimming pool complete with diving facilities, a football stadium, running tracks, a yoga and dance studio, a ten-metre rock-climbing wall, a skateboard arena, five badminton courts, three squash courts, a futsal court, an archery range, shops and cafes.
Professor Tan Sri Datuk Dr. Hj Mohamed Haniffa bin Hj Abdullah, Pro-Chancellor and Executive Chairman, in his speech, said that the Sports and Recreation Centre will be home to all students, alumni and staff.
YB Dato' Seri Idris reminded students of their rare opportunity to acquire quality education from one of the country's premier institutions of higher learning, and advised them to make the best of their opportunity.
Construction of the MAHSA Sports & Recreation Centre is scheduled to begin in June 2017, and will take nine to twelve months to complete.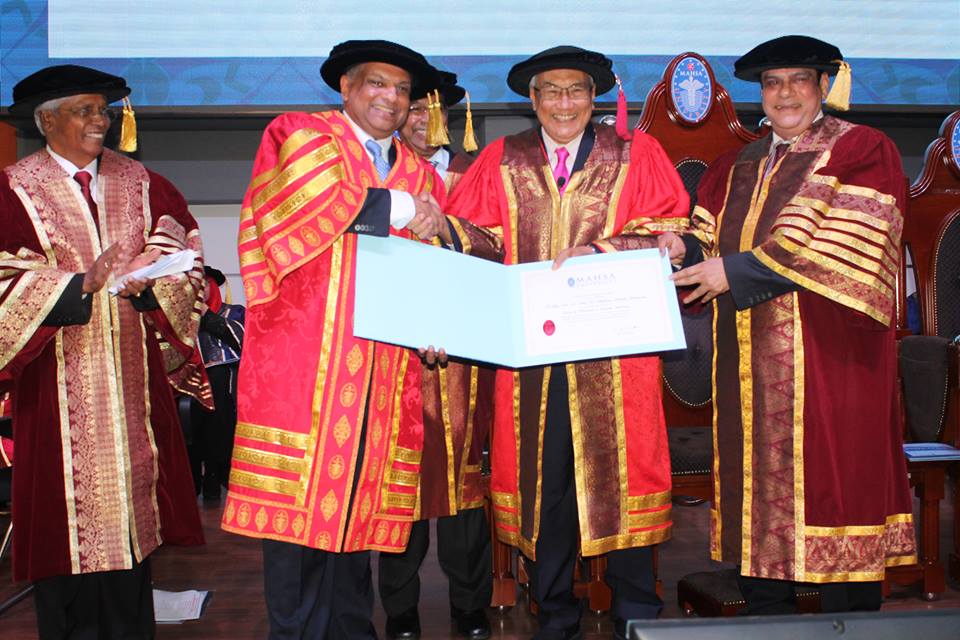 AIR ASIA'S Y.BHG TAN SRI DATO' SRI ANTONY FRANCIS FERNANDES CONFERRED AN HONORARY DOCTORATE BY MAHSA UNIVERSITY
Bandar Saujana Putra, Shah Alam, 14 March 2017:
MAHSA University held an award ceremony for the conferment as Honarary Doctor of Philosophy in Corporate Leadership on Y.Bhg. Tan Sri Dato' Sri Antony Francis Fernandes, CEO of Air Asia, at the university's state-of-the-art campus here at Bandar Saujana Putra, Shah Alam, today. Universities confer honorary degrees on individuals who have made substantial contributions to a particular field or to society in general.
In this case, the award is MAHSA's recognition of Y.Bhg. Tan Sri Dato' Sri Antony Francis Fernandes' vision in transforming the hitherto failing airline into a leader in the travel industry today, and his service to Malaysians and others in and around Asia for making air travel accessible to everyone.
Officiating the ceremony was MAHSA's Pro-Chancellor and Executive Chairman, Y. Bhg Prof. Tan Sri Datuk Dr. Hj. Mohamad Haniffa bin Hj. Abdullah, in his speech, applauded the many accomplishments of Y.Bhg. Tan Sri Dato' Sri Antony Francis Fernandes. During his speech, Y. Bhg Prof. Tan Sri Datuk Dr. Hj. Mohamad Haniffa bin Hj. Abdullah also announced MAHSA's plans to build a world-class hospital that will make good health care accessible to ordinary people.
Towards the end of the ceremony, Tan Sri Dato' Fernandes made a surprise offer to "the first two persons to run up on stage, dressed in red" to be given a free ticket for Air Asia's maiden flight to Hawaii. The lucky two were nursing lecturer Asha Manghanmal and third year medical student Muhamad Izzat Hanif Jeffry who very happy to receive the free tickets.
Also present at the event was Professor Tan Sri Dato Seri Dr. Hj. Mohamed Ismail bin Merican Pro-Chancellor and Chairman, whose welcome address encouraged MAHSA students to emulate Y.Bhg. Tan Sri Dato' Sri Antony Francis Fernandes in their approach to success.
MAHSA University Conducts Workshop at 14th Asia
- Pacific Medical Education Conference in NUS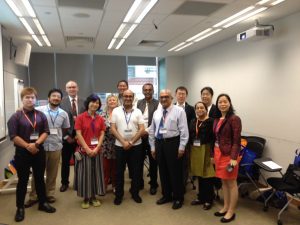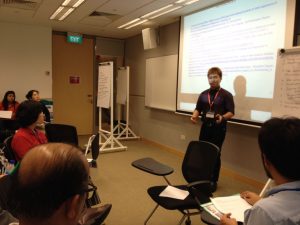 MAHSA University was the only university from Malaysia invited to conduct a workshop at the 14th Asia-Pacific Medical Education Conference hosted by the National University of Singapore recently.
The workshop's aims were to identify some of the challenges faced by students and educational institutions in various environments, to suggest effective solutions to these challenges, and to find alternative solutions, especially in the globalization of medical education.
Led by the Dean, Professor Dato Dr Ravindran Jegasothy, MAHSA's Faculty of Medicine team included Associate Professor Ganesh Ramachandran, Associate Professor Chitra Govindaraj and Mr Nakorn Nuntasukasame, a third-year MAHSA MBBS student.
Mr Nuntasukasame gave an account of the challenges he had encountered and presented a video in which MAHSA students from the thirty-one countries around the world relayed their personal experiences here. The workshop participants also shared other experiences, such as the difficulties faced by Muslim students in non-Muslim countries during the fasting month, language and cultural barriers, and the standardisation of educational philosophies across international boundaries.
At the end of the workshop, the MAHSA team greatly inspired its workshop participants to agree that in order to prevail over the many challenges that abound in international medical education, universities have to continuously come up with better ideas and solutions to the problems faced by their international students.
MAHSA International Restodontic Conference
10-12 March 2017
MAHSA University will be hosting the first MAHSA International Restodontic Conference and Exhibition, to be held from 10th to 12th March 2017 at the university's Bandar Saujana Putra campus.Organised by MAHSA's Department of Conservative Dentistry (Faculty of Dentistry), and interestingly entitled "Restoration with Conviction", the conference will present eight international speakers from all over Asia who will be delivering keynote lectures on a variety of topics ranging from Restorative Dentistry to Aesthetic Dentistry to Endodontics.
The eminent dental experts who will be sharing their knowledge and insights are Professor Dr V Gopal (Editor-in-Chief of the Journal of Conservative Dentistry), Dr R L Halili-Castillo (Doctor of Dental Medicine at the University of East Manila, Philippines), Professor Dr Yoo Jun Sang (Member of the Korean Academy of Conservative Dentistry), Professor Dr Mohan Bhuvaneswaran (Director of Vignesh Dental Hospital), Dr Goh TeikSuai (Accredited Member of the Australasian Society of Implant Dentistry), Dr Abraham Culbengan (a founding member of the Philippines Academy of Aesthetic Dentistry), Clinical Associate Professor Dr Patrick Tseng (Chief Dental Officer at the Ministry of Health of Singapore), and Dr David Sun Yee Wha.
Pre-conference workshops will be conducted on the 10th of March. To add excitement to these events,a trade exhibition will be held concurrently, during which a large number of dental representatives and traders will be gathering to showcase state-of-the-art equipment and technology in the world of dentistry. Additionally, on Saturday 11th March, there will be an oral and poster presentation competition, submissions of which have to be sent in by 15th February.
MAHSA University's International Restodontic Conference and Exhibition conference aligns with MAHSA University's commitment to the pursuit of excellence not only in the field of Dentistry, but in the arena of tertiary education as well. Besides making waves in Malaysian academics, MAHSA's rise has also been noticed in the international scene in various fields, particularly in that of Dentistry, as they open their doors to host these renowned speakers and experts this March.
Online registration is currently open, and early-bird registration is available till 31st January 2017. For more information, please visit www.mirce.org.
MAHSA University Opens Football Field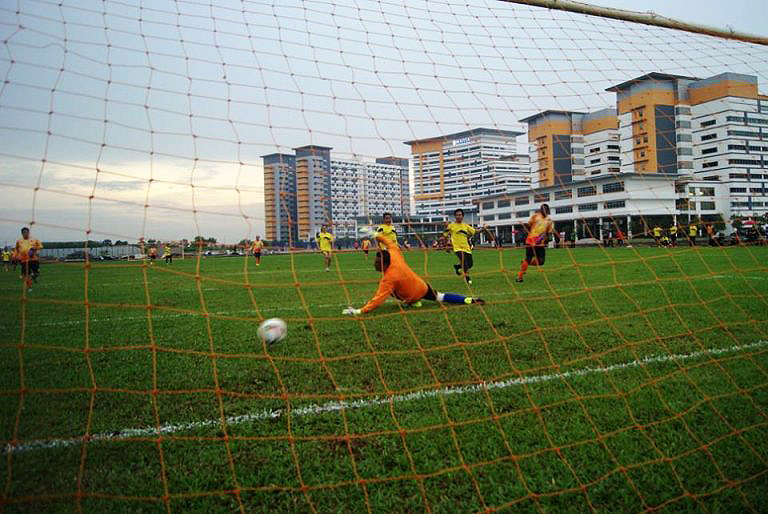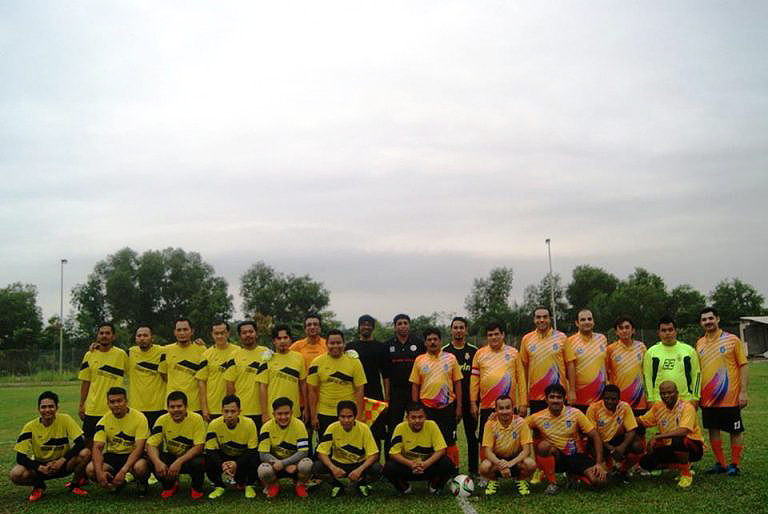 Few universities around the world can boast their own football field, which is why this particular one stands out. On Saturday, 10 December 2016, MAHSA University officially declared open its very own football field, when Team MAHSA had its inaugural match with Team MAHSA Friends.
The football field is the dream vision of MAHSA's Pro-Chancellor and Executive Chairman, and Team MAHSA's Captain, Professor Tan Sri Datuk Dr Haji Mohamed Haniffa bin Haji Abdullah. The sport and the values it has instilled in him as a young man lives on till today.
The Pro-Chancellor and Executive Chairman spoke of his passion for football. It's a sport that unites as it bridges cultures and generations, bringing communities closer.
An ardent football aficionado with unwavering loyalties to Manchester United F.C. (he has never missed a single Manchester United game), Professor Tan Sri Datuk Dr Haji Mohamed Haniffa led Team MAHSA to win 5-1 in the inaugural match.
Presenting the medals to all who participated, the Pro-Chancellor and Executive Chairman said the results were secondary. What mattered was how they played the game.
For further enquiries please email us at onlineenq@mahsa.edu.my.
Mahsa University students graduating at new campus
MAHSA University today held its 13th convocation ceremony for the first timein its new campus in Bandar Saujana Putra, Selangor.
A total of 579 students received their scrolls from Tun Dato' Seri Zaki bin TunAzmi, Chancellor of MAHSA University. Thesuccessful graduates join the university's 10,000 alumni comprising more than 55 different nationalities.
The Chancellor Gold Medal, Vice Chancellor Prize and Outstanding Student Leadership Award were also presented to ten exemplary graduates.
The Chancellor Gold Medal was awarded to Chan Soo Ling who graduated with Doctor of Dental Surgery, for best all-round achiever. Chan has achieved outstanding academic results, shown exemplary conduct and an all-rounder taking part in many national and international competitions and sporting events.
The Vice-Chancellor Prizewere awarded toCorine Chua, Mohd Arif Bin Azahar, On Chew Soong, Sam Jia Xian, Tang Wan Yung, Teoh Zhi Mei, Venesa Yew Yon Ci and Wee Kah Ying for achieving the best academic results in their respective programmes.
The Outstanding Student Leadership Award was conferred upon Kenneth Wong Chen Fei. The Chancellor commended Wong for his outstanding achievements in his MBBS studies as well as making a significant difference to the community. Wong held many student leadership positions and started a charitable society called MAHSA Helping Hands, leading more than 20 charitable projects in soup kitchens, orphanages, old folk homes, distributing food and give medical services to the homelessand helping the Rohingya refugee children in Malaysia.
MAHSA University was founded upon the vision to create a centre of excellence in healthcare education in the region. The new purpose built campus, with its world class infrastructure, is the embodiment of that vision. The 50 acre campus houses state of the art learning facilities, green buildings, in-campus residences, a football field, a sports centre and health clinics.
"We designed this to be an all-inclusive, transformative campus for the community", Professor Tan Sri Dato' Dr. Hj. Mohamed Haniffa bin Haji Abdullah, Pro-Chancellor and Executive Chairman said in his address at the convocation ceremony.
The Pro-Chancellor and Executive Chairman also announced future plans to launch new programmes to increase accessibility to quality education. Among them are programmes in Early Childhood Education, Information Technology, Data Management, Games Development, Networking, Mobile Computing, Graphic Design, Islamic Finance, Hotel Management, Restaurant Management, Sports and Exercise Science, Paramedic Science, Healthcare Practice, Public Health Nursing, Mechanical Engineering, Civil Engineering, Aesthetic Medicine and Traditional Chinese Medicine.
Interfaculty Debate Competition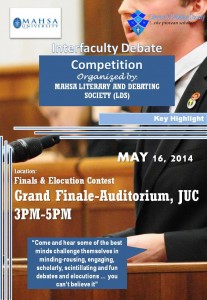 The Interfaculty Debate Competition Grand Final organized by Literacy & Debating Society will take place on Friday 16th May 2014 at Jalan University Campus (JUC).
Visit by Physiotherapy Students from Hong Kong – 21st February 2014
1st Prize Winner – 2013 Electronic Campaign for Oral Cancer Awareness
Electronic Campaign for Oral Cancer Awareness in Malaysia
The Electronic Oral Cancer Awareness Campaign Competition was held on the 17th November, 2013.
The National Oral Cancer Awareness Week was jointly organized by Oral Cancer Research Collaborating Centre (0CRCC), Ministry of Health and dental institutions throughout Malaysia.
In conjunction with this, a competition for the best "Electronic Campaign for Oral Cancer Awareness in Malaysia" was held on the 17th November, 2013 and all the 12 Universities on Malaysia offering dentistry were invited to participate.
The submission from the Faculty of Dentistry, MAHSA UNIVERSITY themed "Early Detection Saves Lives". by DDS year four students NAVENITHAMARIA A/PEIRUTHARAJAN, SANTHANALAXMI A/P BALACHANDRAN, CHUA MIAO HUA, BELINDA DWEE KAR YEE and EDMUND OOI JIA EN had won the FIRST PRIZE, beating 12 other submissions.
The other 12 submissions were from the following Universities:
Universiti Kebangsaan Malaysia
SEGI University
Melaka Manipal Medical College
International Medical University
MAHSA University
International Islamic University Malaysia
Universiti Teknologi Mara
University of Malaya
Universiti Sains Malaysia
We're proud of our students!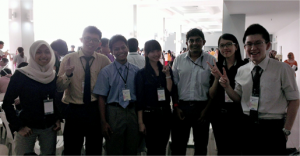 28th Aug. 2013 – Team MAHSA University at the 11th Inter-Medical School Physiology Quiz 2013 held at University Malaya, Kuala Lumpur, Malaysia. 83 universities from 21 countries taking part in this pretigious competition!
Additional Parking…FREE Shuttle Service
Here are more details on the Shuttle Service offered to and fro Jaya One (at the square area next to Old Town White Coffee) & MAHSA JUC (Next to Chancellery/glass lift).
Firstly, it's free!
Secondly, the shuttle schedule is as below:
7.15am- 9am: Shuttle service every 15 minutes from Jaya One to JUC.
12.30pm: Shuttle service from JUC to Jaya One
1.30pm: Shuttle service from Jaya One to JUC
4.15pm – 6pm: Shuttle service every 15 minutes from JUC to Jaya One.
For more information, please contact
Mr. Peri: 013 364 8755
Mr. Muthu: 0111 2373661
Mr. Krishna: 012 230 0091
SPP1M – New Loan Scheme For Higher Studies