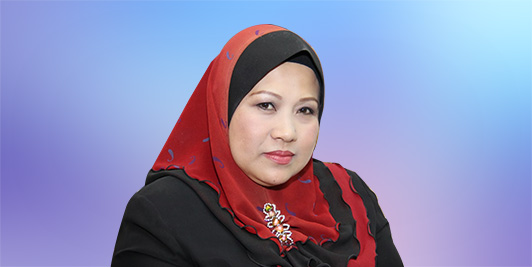 Assoc. Prof. Datuk Dr. Rozaidah Binti Talib
Deputy Vice Chancellor (Research & Innovation)
MESSAGE BY DEPUTY VICE-CHANCELLOR
(Research and Innovation)
Developing and maintaining a vibrant research culture is a key component to MAHSA University. We are committed in our belief that research and innovation is an integral component of any academic programme. In addition to the intellectual benefits research provides, it also leads to the development of novel intellectual property, which is a key metric for Universities today...

Research also promotes intra and inter-institutional collaboration at national and international levels. The opportunity for academics to discover new truths and to allow for free intellectual inquiry enhances the quality and of all MAHSA's academic programmes.

The leadership of MAHSA University supports the emergence of a viable and sustainable research program that commensurate with the capacity of the University. Accordingly the office of the Deputy Vice-Chancellor for Research & Innovation is being supported by a Research Management Centre (RMC) which oversees and manages all research related activities of MAHSA University. The Centre consists of several units, committees and secretariats that facilitate the academic staff and the University, in general, to participate in all research programs internally, nationally and internationally.

We will continuously make greater efforts to strengthen research for national capacity building and create fertile ground for innovation.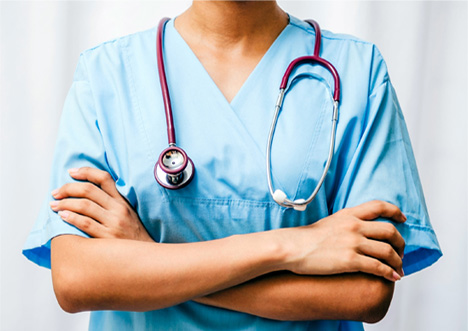 KEY RESEARCH AREAS
Human Physiology

Nutritional Toxicology

Microbial and Environmental Biochemistry

Micro-RNAs and Diseases

Gene expression and Genetic Profiling

Water Quality and Environmental Health

Biochemistry

Medical Education
PHARMACY
● Medicinal Chemistry
● Synthesis & Characterization of new Chemical entities
● Isolation & Characterization of active constituents in Plant origin
● Pharmacological Evaluation
PHARMACY
Medicinal Chemistry
Synthesis & Characterization of new Chemical entities
Isolation & Characterization of active constituents in Plant origin
Pharmacological Evaluation
RESEARCH MANAGEMENT CENTRE, MAHSA UNIVERSITY

MAHSA University carries out research across a broad range of basic, applied and clinical topics that mirror the competencies of our faculties and academic staff. Thus, our Research Management Centre (RMC) was set up to oversee and manage all research activities of the University. It is headed by the Deputy Vice Chancellor (Research & innovation), assisted by the Secretary and Executive Officer of RMC.
The RMC's overall function is to :
Promote research culture among the academic staff

Build research capacity

Promote research activities through staff development
programs and meetings

Review and approve research proposals

Review Ethical issues pertaining to research proposals

Monitor research projects

Monitor publications and presentation of research papers

Manage data input for MyRA

Manage application for external research grants; liaise with relevant authorities.
The main Units under RMC are :
RESEARCH GRANTS
(List of available Grants)
Maximum Budget for MAHSA grant is RM 50,000.00 per project
Malaysia of Higher Education (MOHE)
Fundamental Research Grant Scheme (FRGS)

Prototaip Research Grant Scheme (PRGS)
Malaysia of Science & Technology Innovation (MOSTI)
Others
Science and Technology Research Grant (STRG) by Malaysia Toray Science Foundation

Ranjeet Bhagwan Singh Medical Research Trust Fund by Academy of Science Malaysia
Newton Fund UK – Southeast Asia Small Scale Research
RESEARCH COLLABORATIONS
International
● Texas Eye Research and Technology Center (TERTC) at the University of Houston, College of Optometry (UHCO)
● TUS partner research laboratory for "ISO Standard Contact Lens Transmission Measurements" from Coopervision Inc.
● Anglia Ruskin University
NATIONAL
Clinical Research Centre Hospital Sungai Buloh

Oral Cancer Research & Coordinating Centre, University of Malaya

Institute of Biocsience, University Putra Malaysia

International Medical University (IMU)

Universiti Sultan Zainal Abidin (UNISZA)

University of Malaya (UM)

International Islamic University Malaysia (IIUM)
MOU
Ansan University, South Korea




Daegu Haany University, Republic of Korea




Nam Viet International Vocational Training College




Amirkabir University of Technology
RESEARCH CONFERENCE
MAHSA INAUGURAL RESEARCH CONFERENCE 2015.
"Cancer-Emperor of all Maladies"
Date: 4th October 2015 (Sunday)
Venue : Auditorium Hall, MAHSA University
Guest of Honour : Deputy Minister of Health, Malaysia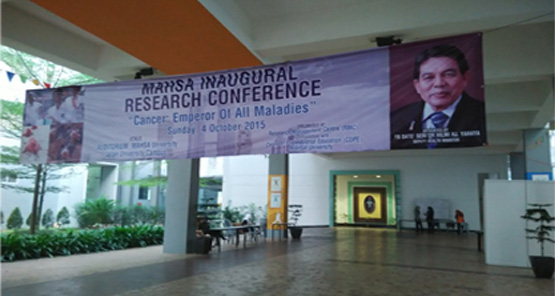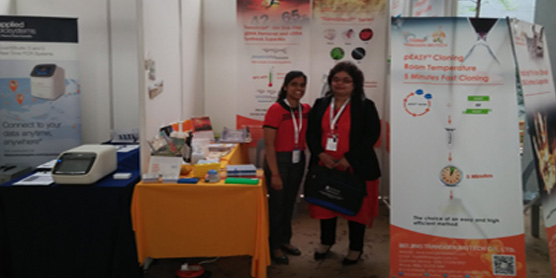 ANNOUNCEMENT
We are proud to hold our first Research Conference with a special focus on Cancer; as there appears to be an increasing incidence of cancer both locally and globally. The problem of Cancer in Malaysia is a growing one. Based on the Health Facts 2013 released by MOH, Cancer is one of the top 10 causes of Hospitalization and one of the top 5 causes of death, in both MOH and private hospitals. The theme of the Conference is, CANCER: EMPEROR OF ALL MALADIES. The keynote speaker will address the issues of GI-Liver cancers in relation to obesity and the speakers for the Parallel Session will discuss about Biomarker & Screening, Immunotherapy and Clinical Features & Management of various types of Cancers. Research and technological innovations have given health service providers the means to diagnose and treat cancer. Research on biomarkers has enabled early detection and risk assessment of cancer. Research on the immune system to fight cancer has produced a promising new cancer treatment approach that makes a meaningful difference in the lives of cancer patients. Through this conference MAHSA will bring together likeminded researchers in the field of cancer research to share the latest development in research, treatment and clinical management of cancer. The conference will also serve as a networking platform between researchers and clinician.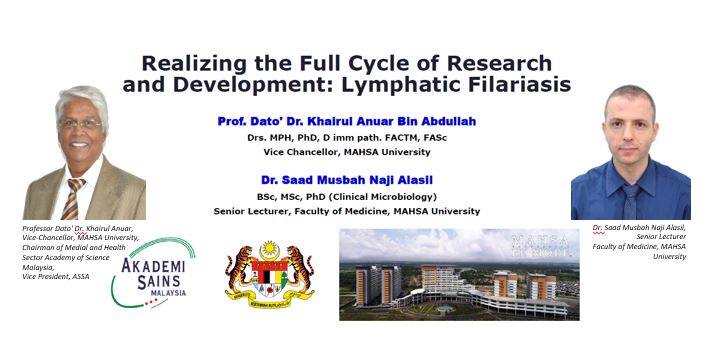 2017 AASSA International Symposium
Congratulations to our Vice Chancellor Professor Dato' Dr. Khairul Anuar and Dr. Saad Musbah Naji Alasil, Senior Lecturer at Faculty of Medicine, MAHSA University, for your successful publication at the 2017 AASSA International Symposium on "Realizing the Full Cycle of Research and Development From Bench to the Community".

Download AASSA
International Symposium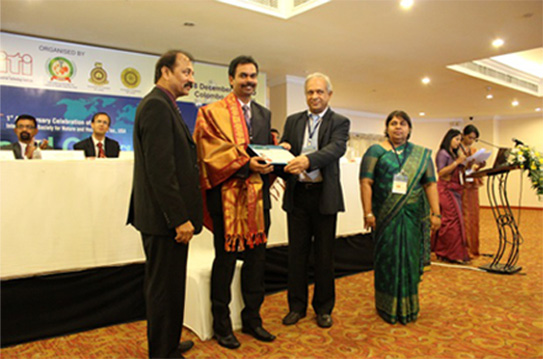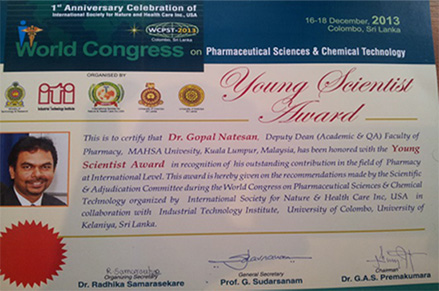 AWARDS
Professor Dr Gopal Natesan, Faculty of Pharmacy
Categories: Best Poster Presented Award
Title : "In-Vivo Analgesic Activity of Different Organic Extracts of Rhizophora Stylosa Leaf"
Event : 6th Asia-Pasific Pharma Congress, 11-13 July 2016
Associate Professor Ganesh Ramachandran
Categories: Free Communication Award
Title : Are Attitudes Towards Contraception Influenced by Knowledge Alone?
Event : 24th Congress of the Obstetrical and Gynaecological Society of Malaysia,3- 5 June 2016
Professor Dr Gopal Natesan, Faculty of Pharmacy
Categories: Best Presentation Award
Title : Synthesis and Analgesic activity of 2-(p-Substituted phenyl)-3-[4-(N-Substituted amino) methyl-2-oxo indoilin-3- ylidene]benzenesulfonyl Quinazolin-4(3H)-One Derivatives
Event : International Conference on Biochemical Pharmacology and Medicinal Chemistry, 15-16 December 2016, Sydney, Australia
Professor Dr Gopal Natesan, Faculty of Pharmacy
Categories : Young Scientist Award
Organization : International Society for Nature and Health Care Inc, USA with Industrial Technology Institute, University of Colombo, Sri Lanka
NATIONAL SECURED RESEARCH GRANT
Exploratory Research Grant Scheme (ERGS)
1) Dr. Vijaya Letchimi
Genetic Profiling and Linkage Analysis Chromosome 5q31-33 Cytokines and the Association with Plasma IgE Levels in Malaysian Asthmatics
University of Malaya (UM)
International Medical University (IMU)
Fundamental Research Grant Scheme (FRGS)
1) Professor Dr Wang Chee Woon
Molecular Mechanism of Atrial Fibrillation Pathogenesis Involving Micro RNAs
University of Malaya (UM)
2) Dr Madhu Katyayani
Swietenine, a Natural Wonder Drug, Potentiates the Antidiabetic
Activity of Metformin: Identification of molecular mechanisms involved
International Medical University (IMU)
International Secured Research Grant
1) Dr. James Edward Walsh
Ultraviolet Radiation and Eye Protection Factor
Texas Eye Research and Technology Center (TERTC) at the University of Houston, College of Optometry (UHCO)
2) Dr. James Edward Walsh
ISO Standard Contact Lens Transmission Measurements
US partner research laboratory for "ISO Standard Contact Lens Transmission Measurements" from Coopervision Inc
3) Dr U Kyaw Tin Hla
The Needs of General Practitioners in capacity building of the country:
Myanmar
US partner research laboratory for "ISO Standard Contact Lens Transmission Measurements" from Coopervision Inc