| No. | Date | Time | Events | Venues |
| --- | --- | --- | --- | --- |
| 1. | 18 & 19 March 2017 | 9.00am – 5.00pm | MAHSA University Open Day | Jalan University Campus & Saujana Putra Campus |
| 2. | 18 & 19 March 2017 | 11.00am – 7.00pm | Education & Further Study Fair Part 1 | Hall 1, Midvalley International Convention Center |
| 3. | 25 & 26 March 2017 | 11.00am – 7.00pm | STAR Education Fair | SPICE Arena, Penang |
| 4. | 25 & 26 March 2017 | 9.00am – 5.00pm | MAHSA University Open Day | Jalan University Campus & Saujana Putra Campus |
Other Education Fairs
| No. | Date | Time | Events | Venues |
| --- | --- | --- | --- | --- |
| 1. | 16 March 2017 | 1.00pm – 5.00pm | FEN Education Roadshow | Classic Hotel, Muar, Johor |
| 2. | 17 March 2017 | 1.00pm – 5.00pm | FEN Education Roadshow | Katerina Hotel, Batu Pahat, Johor |
| 3. | 17 March 2017 | 12.00pm – 6.00pm | FACON Education Fair | Jen Hotel, Penang |
| 4. | 17 & 18 March 2017 | 12.00pm – 6.00pm | FSI Education Roadshow | KSL Resort, Johor Bahru, Johor |
| 5. | 18 March 2017 | 1.00pm – 5.00pm | FEN Education Roadshow | Prime City Hotel, Kluang, Johor |
| 6. | 18 – 19 March 2017 | 10.00am – 6.00pm | Karnival Pendidikan MARA | Plaza Angsana, Johor Bahru, Johor |
| 7. | 18 – 19 March 2017 | 10.00am – 6.00pm | Karnival Pendidikan MARA | Sunway Carnival Convention Centre, Seberang Jaya, Penang |
| 8. | 19 March 2017 | 12.00pm – 6.00pm | FSI Education Roadshow | Prime City Hotel, Kluang, Johor |
| 9. | 19 March 2017 | 12.00pm – 6.00pm | FEN Education Roadshow | Grand Paragon Hotel, Johor Bahru |
| 10. | 19 March 2017 | 12.00pm – 6.00pm | FACON Education Fair | Equatorial Hotel, Melaka |
| 11. | 20 March 2017 | 1.00pm – 5.00pm | FEN Education Roadshow | Hatten Hotel, Melaka |
| 12. | 20 March 2017 | 12.00pm – 6.00pm | FSI Education Roadshow | Royale Bintang Resort, Seremban |
| 13. | 21 March 2017 | 1.00pm – 5.00pm | FEN Education Roadshow | Royale Bintang Resort, Seremban |
| 14. | 21 March 2017 | 12.00pm – 6.00pm | FSI Education Roadshow | Equatorial Hotel, Melaka |
| 15. | 22 March 2017 | 1.00pm – 5.00pm | FEN Education Roadshow | Dewan Perhimpunan Cina, Bentong, Pahang |
| 16. | 23 March 2017 | 1.00pm – 5.00pm | FEN Education Roadshow | Vistana Hotel, Kuantan, Pahang |
| 17. | 23 March 2017 | 12.00pm – 6.00pm | FSI Education Roadshow | Zenith Hotel, Kuantan, Pahang |
| 18. | 25 – 26 March 2017 | 10.00am – 6.00pm | Karnival Pendidikan MARA | Aman Jaya Convention Centre, Ipoh, Perak |
| 19. | 25 – 26 March 2017 | 10.00am – 6.00pm | Karnival Pendidikan MARA | Suria Sabah, Kota Kinabalu, Sabah |
| 20. | 26 March 2017 | 12.00pm – 6.00pm | FSI Education Roadshow | Syuen Hotel, Ipoh, Perak |
| 21. | 27 March 2017 | 11.00am – 3.00pm | Mini Edu Fair Inti College | Inti International College, Penang |
| 22. | 27 March 2017 | 12.00pm – 6.00pm | FSI Education Roadshow | Iconic Hotel, Bukit Mertajam, Penang |
| 23. | 29 March 2017 | 12.00pm – 6.00pm | FSI Education Roadshow | Jen Hotel, Penang |
| 24. | 30 – 31 March 2017 | 10.00am – 6.00pm | Karnival Pendidikan MARA | The Hills Shopping Mall, Kuching, Sarawak |
| 25. | 1 – 2 April 2017 | 10.00am – 6.00pm | Karnival Pendidikan MARA | Dewan Majlis Bandaraya Alor Setar, Kedah |
| 26. | 1 – 2 April 2017 | 10.00am – 6.00pm | Karnival Pendidikan MARA | Anggerik Mall, Shah Alam, Selangor |
| 27. | 8 – 9 April 2017 | 10.00am – 6.00pm | Karnival Pendidikan MARA | Terrengganu Trade Centre, Kuala Terrengganu |
| 28. | 8 – 9 April 2017 | 10.00am – 6.00pm | Karnival Pendidikan MARA | Mydin Mall, Seremban 2 |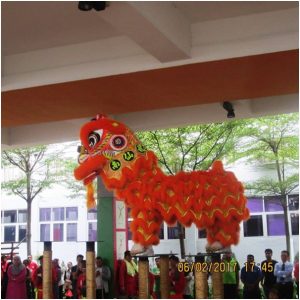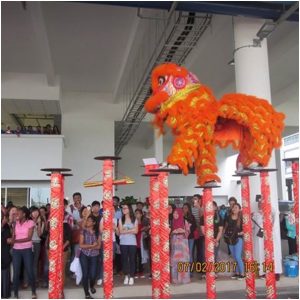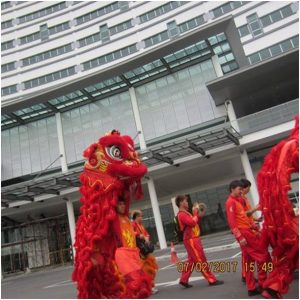 MAHSA University recently held Chinese New Year celebrations with not just one, but two magnificent lion dance which graced both its Jalan University and its Saujana Putra campuses.
On 6th and 7thFebruary 2017, the lion dance troupes made their grand entrance at Jalan University Campus and Saujana Putra Campus respectively and entertained students and staff from a diversity of cultures. The lions made their way through the university premises, and ended the event with a spectacular acrobatic lion dance to the delight of the crowd.
The lion dance is a traditional Chinese dance performed during the Chinese New Year and other major celebrations. The lion is believed to be an auspicious animal that brings good luck, and the dance is performed with drums rolling, gongs beating and cymbals clashing.
MAHSA's tribute to the Year of the Rooster augurs well for the university and its students, presaging a year of great achievement, success, prosperity and more.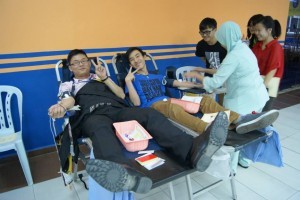 Blood Donation Drive by MAHSA and University Malaya Medical Centre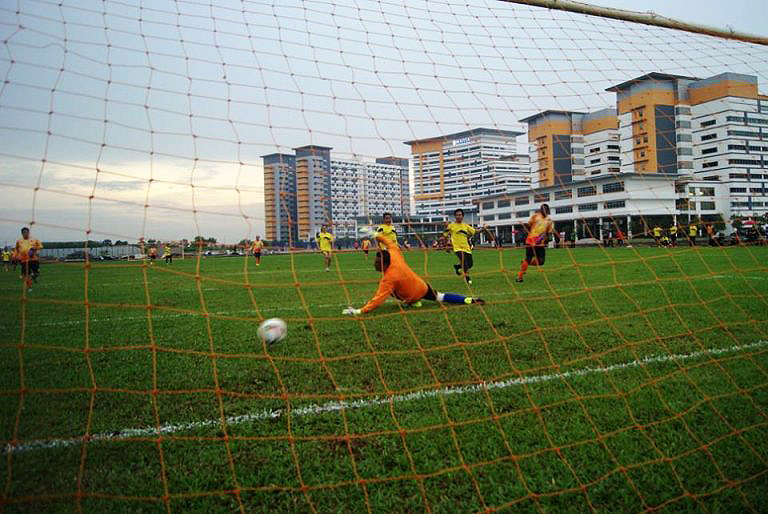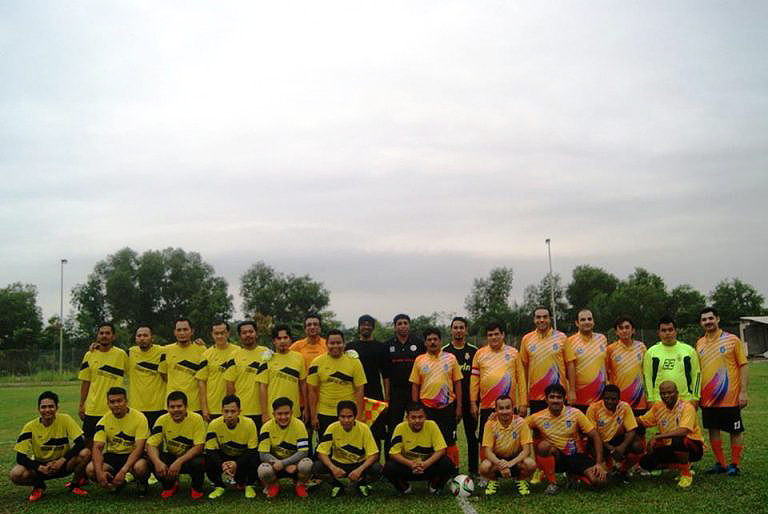 Few universities around the world can boast their own football field, which is why this particular one stands out. On Saturday, 10 December 2016, MAHSA University officially declared open its very own football field, when Team MAHSA had its inaugural match with Team MAHSA Friends.
The football field is the dream vision of MAHSA's Pro-Chancellor and Executive Chairman, and Team MAHSA's Captain, Professor Tan Sri Datuk Dr Haji Mohamed Haniffa bin Haji Abdullah. The sport and the values it has instilled in him as a young man lives on till today.
The Pro-Chancellor and Executive Chairman spoke of his passion for football. It's a sport that unites as it bridges cultures and generations, bringing communities closer.
An ardent football aficionado with unwavering loyalties to Manchester United F.C. (he has never missed a single Manchester United game), Professor Tan Sri Datuk Dr Haji Mohamed Haniffa led Team MAHSA to win 5-1 in the inaugural match.
Presenting the medals to all who participated, the Pro-Chancellor and Executive Chairman said the results were secondary. What mattered was how they played the game.
Mahsa University students graduating at new campus 19 November 2016
MAHSA University today held its 13th convocation ceremony for the first timein its new campus in Bandar Saujana Putra, Selangor.
A total of 579 students received their scrolls from Tun Dato' Seri Zaki bin TunAzmi, Chancellor of MAHSA University. Thesuccessful graduates join the university's 10,000 alumni comprising more than 55 different nationalities.
The Chancellor Gold Medal, Vice Chancellor Prize and Outstanding Student Leadership Award were also presented to ten exemplary graduates.
The Chancellor Gold Medal was awarded to Chan Soo Ling who graduated with Doctor of Dental Surgery, for best all-round achiever. Chan has achieved outstanding academic results, shown exemplary conduct and an all-rounder taking part in many national and international competitions and sporting events.
The Vice-Chancellor Prizewere awarded toCorine Chua, Mohd Arif Bin Azahar, On Chew Soong, Sam Jia Xian, Tang Wan Yung, Teoh Zhi Mei, Venesa Yew Yon Ci and Wee Kah Ying for achieving the best academic results in their respective programmes.
The Outstanding Student Leadership Award was conferred upon Kenneth Wong Chen Fei. The Chancellor commended Wong for his outstanding achievements in his MBBS studies as well as making a significant difference to the community. Wong held many student leadership positions and started a charitable society called MAHSA Helping Hands, leading more than 20 charitable projects in soup kitchens, orphanages, old folk homes, distributing food and give medical services to the homelessand helping the Rohingya refugee children in Malaysia.
MAHSA University was founded upon the vision to create a centre of excellence in healthcare education in the region. The new purpose built campus, with its world class infrastructure, is the embodiment of that vision. The 50 acre campus houses state of the art learning facilities, green buildings, in-campus residences, a football field, a sports centre and health clinics.
"We designed this to be an all-inclusive, transformative campus for the community", Professor Tan Sri Dato' Dr. Hj. Mohamed Haniffa bin Haji Abdullah, Pro-Chancellor and Executive Chairman said in his address at the convocation ceremony.
The Pro-Chancellor and Executive Chairman also announced future plans to launch new programmes to increase accessibility to quality education. Among them are programmes in Early Childhood Education, Information Technology, Data Management, Games Development, Networking, Mobile Computing, Graphic Design, Islamic Finance, Hotel Management, Restaurant Management, Sports and Exercise Science, Paramedic Science, Healthcare Practice, Public Health Nursing, Mechanical Engineering, Civil Engineering, Aesthetic Medicine and Traditional Chinese Medicine.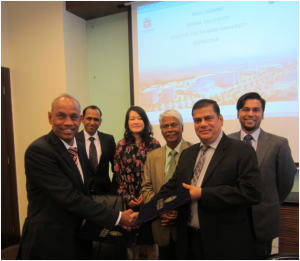 Memorandum of Understanding was signed with London South Bank University
Professor Tan Sri Datuk Dr. Hj. Mohamed Haniffa Bin Hj. Abdullah , Pro-Chancellor & Executive Chairman of MAHSA University and Professor Rao Bhamidimarri , Vice President (Development),London South Bank University have signed Memorandum of Understanding (MOU) on Academic and Research collaboration and cooperation at the MAHSA Education Group ,Jalan University Campus on June 3, 2016.
LSBU is one of the premier University in the city of London with about 20,000 Students. Established as the Borough Polytechnic Institute in 1892, London South Bank University (LSBU) is promoting the industrial skill, general knowledge, health and well-being of young men and women till today.
Both organizations will promote collaborative projects and cooperate together in all of common interest areas such as Computing, Engineering, Visual Arts and Built Environment under graduate and post graduate programmes.By signing the MOU today, the two Institutions reinstated that they remain focused continuously on providing highest standards of academic and education quality and produce graduates who can meet the challenges of today's workplace with the responsibility of building a sustainable society.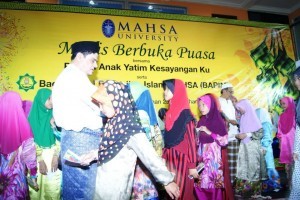 Majlis Berbuka Puasa bersama Anak Yatim Kesayanganku
Event
Majlis Berbuka Puasa bersama Anak Yatim Kesayanganku, a ceremony so modest yet very meaningful…
Date
25th Ramadhan 1435 (23rd July 2014) @ MAHSA University, Jalan University Campus
Intensive Course In Basic Sciences For Surgical Specialities (A Gateway To Your Career Path)
WELCOME!
The INTENSIVE COURSE IN BASIC SCIENCES FOR SURGICAL SPECIALITIES (A GATEWAY TO YOUR CAREER PATH) is a preparatory course designed for candidates appearing for Part 1 MRCS and entrance examinations for Master and Doctor in General Surgery, Orthopaedics, ENT and Obstetrics & Gynaecology. Four main basic surgical sciences subjects will be covered in the course namely Anatomy, Physiology, Pathology and Principles of Surgery.
The course will be conducted by prominent senior medical academic staff with vast teaching experience in their field of expertise. These structured sessions will be held over FOUR weekends (Saturday and Sunday) in April 2017 at MAHSA University, Jalan Universiti Campus, Kuala Lumpur. There will be 43 sessions of 50 hours of effective teaching with Q & A sessions in this course for junior doctors preparing for their career path.
Prof. Dato Dr. Ravindran Jegasothy
Dean,Faculty of Medicine,
MAHSA University
WORKING COMMITTEE
Advisor:
Prof. Dato Dr. Ravindran Jegasothy
Assoc. Prof. Dr. Gauri Krishnaswamy
Course Content Coordinator:
Prof. Dr. Abdul Hamid B. Abdul Rashid
Chairperson of Organising Committee:
Dr. Mona Mohamed Ibrahim Abdalla
Surgical Anatomy
Abdominal walls, surgical incisions and inguinal region.
Oesophagus, stomach, intestines, mesenteries, blood supply and lymphatic drainage.
Rectum and anal canal, ischio-anal fossa, hepato-biliary system and spleen.
Uro-genital systems.
Pelvic & urogenital diaphragms; perineal region and pouches.
Muscle groups, blood and nerve supply and nerve lesions of upper limb.
Muscle groups, blood and nerve supply and nerve lesions of lower limb.
Joints of the upper and lower limbs; vertebral column.
Head, neck and brain I.
Head, neck and brain II
Head, neck and brain III.
Base of the skull & pharyngeal arches
Surgical Physiology
Surgical physiology of body fluid and electrolytes.
Normal and abnormal acid-base balance and regulatory mechanisms.
Surgical aspects of cardiac muscle and cardiac cycle.
Regulatory and compensatory mechanisms of blood pressure in hypovolaemia.
Surgical physiology of respiratory system.
Surgical physiology of renal system.
Surgical physiology of alimentary system.
Electrical physiology and nervous system.
Muscles and neuromuscular junctions.
Surgical physiology of endocrine system.
Surgical Pathology
Cellular injury and tissue response – Necrosis and apoptosis.
Acute and chronic inflammation – Healing and repair; bone healing.
Cardiovascular pathology.
Tissue haemodynamic.
Growth disturbances
Shock, infarction and embolism.
Disseminated intravascular coagulopathy Systemic inflammatory response syndrome.
Neoplasm and carcinogenesis.
Pathology of infectious diseases.
Bleeding disorders.
Clinical genetics.
Immunopathology.
Laboratory medicine.
Principle of Surgery
Preoperative assessment, preparation and postoperative complications of patients.
Fluid and electrolytes management of surgical patient.
Haemostasis, surgical bleeding and transfusion.
Surgical infections.
Minimally invasive surgery.
Trauma, burns and wound healing.
Endocrine and metabolic response to injury.
Brochure &
Form
Time
Table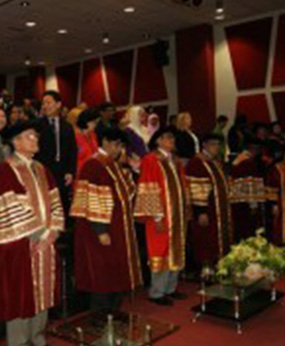 Launching of PhD in Nursing Programme
Event
Official Launching of Doctor of Philosophy (PhD) in Nursing Programme by Y.A.Bhg. Tun Zaki Bin Tun Azmi (Chancellor, MAHSA University)
Date
27th March 2014 @ MAHSA University, Jalan University Campus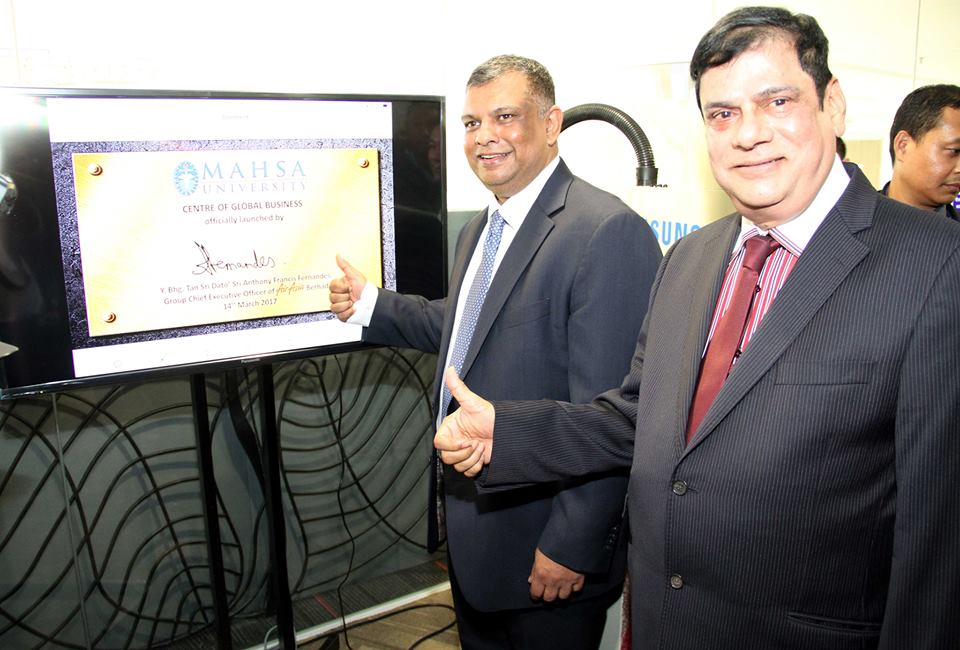 MAHSA UNIVERSITY CENTRE FOR GLOBAL BUSINESS LAUNCHED BY TAN SRI DR TONY FERNANDES
Bandar Saujana Putra, Shah Alam, 14 March 2017:
Tan Sri Dr Tony Fernandes launched MAHSA University Centre for Global Business (MUCGB) during a ceremony at the university's new state-of-the-art campus at Bandar Saujana Putra today. MAHSA's Centre for Global Business will conduct theme-based, multi-disciplinary studies in its effort to help individuals and businesses overcome the many issues that they face in global business today.
The university's Centre for Global Business will have business incubators with their own areas of expertise to help different types of new businesses by providing funding through government and industry grants, encouraging quality publications and driving industry research.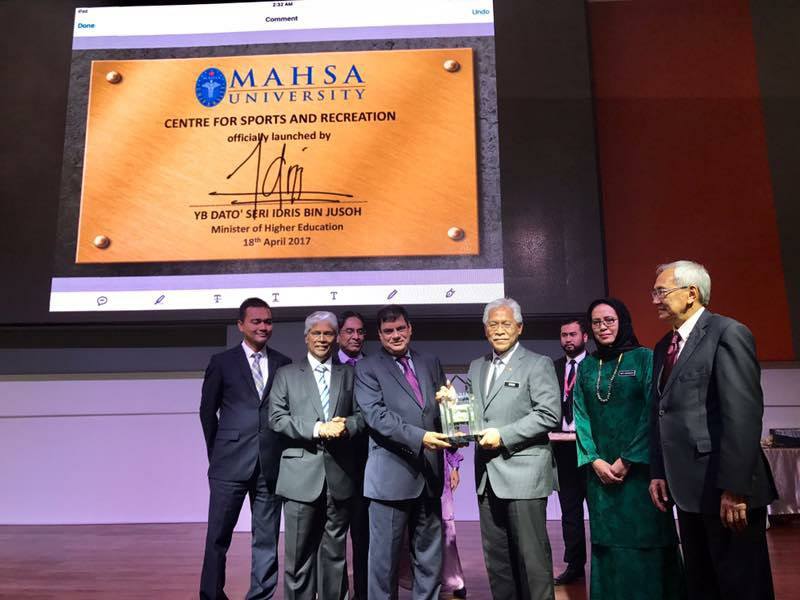 GROUNDBREAKING CEREMONY FOR MAHSA SPORTS & RECREATION CENTRE BY YB DATO' SERI IDRIS BIN JUSOH, MINISTER OF HIGHER EDUCATIONAT MAHSA SAUJANA PUTRA CAMPUS, SELANGOR
TUESDAY 18 April 2017
MAHSA University held the groundbreaking ceremony for its MAHSA Sports and Recreation Centre here at 2.30pm today at their Saujana Putra Campus. YB Dato' Seri Idris Bin Jusoh, the Minister of Higher Education, officially declared the ceremony open after a video of the future Sports and Recreation Centre was played to thunderous applause as students and staff cheered and clapped.
The MAHSA Sports and Recreation Centre will house an Olympic-sized swimming pool complete with diving facilities, a football stadium, running tracks, a yoga and dance studio, a ten-metre rock-climbing wall, a skateboard arena, five badminton courts, three squash courts, a futsal court, an archery range, shops and cafes.
Professor Tan Sri Datuk Dr. Hj Mohamed Haniffa bin Hj Abdullah, Pro-Chancellor and Executive Chairman, in his speech, said that the Sports and Recreation Centre will be home to all students, alumni and staff.
YB Dato' Seri Idris reminded students of their rare opportunity to acquire quality education from one of the country's premier institutions of higher learning, and advised them to make the best of their opportunity.
Construction of the MAHSA Sports & Recreation Centre is scheduled to begin in June 2017, and will take nine to twelve months to complete.